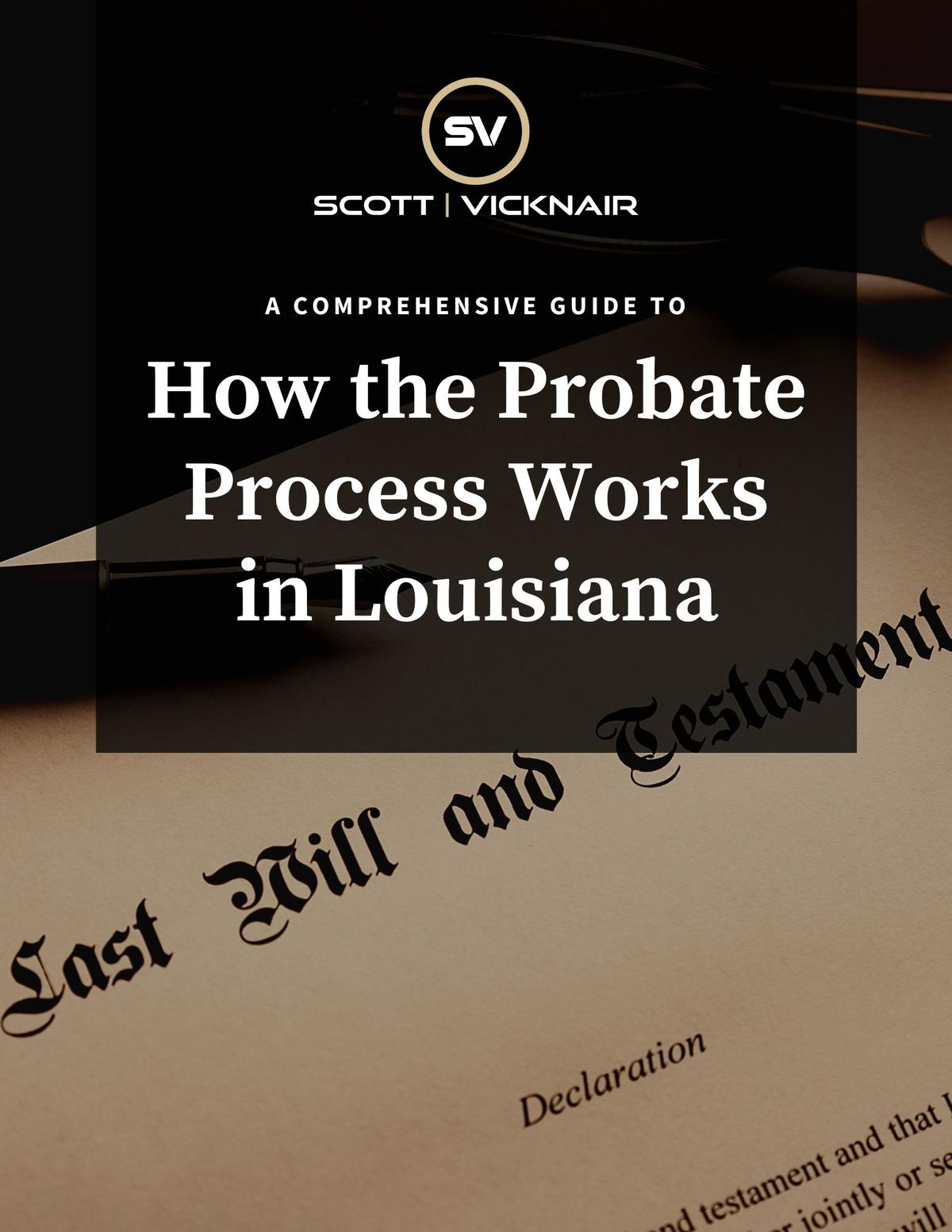 Navigate the Unknown with Confidence, One Answer at a Time.
Are you looking for information on settling an estate after the death of a loved one in Louisiana? Look no further! Whether you need this information now, or are simply planning for the future, we understand the importance of being prepared and having reliable information during such a challenging time. This is why we are offering you our FREE, no obligation, Louisiana Probate eBook for immediate download.
Download the Book
---
In Our FREE eBook, You'll Discover Valuable Insights About Estate Settlement in Louisiana. Here's a Sneak Peek of What You'll Learn:
We start by answering four important questions about estates in Louisiana:
Understanding Succession: What exactly is a succession, and how does it relate to the estate left behind by the deceased?
Determining the Need for Succession: Do you need to go through the succession process? We explain the situations where it is necessary and when it might not be needed.
Opening a Succession: Learn about the different procedures involved in opening a succession and the steps you need to take.
Inheritance and Property Distribution: Who will inherit the property? Discover how the inheritance process works in Louisiana.
But that's not all! Our eBook goes beyond the basics and answers additional questions you might not have thought to ask:
Preparing for Probate: What information do you need to begin the probate process? We provide a helpful checklist to ensure you're well-prepared.

Dealing with Deceased Heirs: What happens when an heir has also passed away? We address this common scenario and guide you on how to proceed.

When is a Succession NOT Needed: There are instances where a succession may not be required. We shed light on these exceptions and provide clarity.
---
Curious to learn more? Download your FREE Louisiana Probate eBook NOW!
Fill out the form on this page, and you'll gain instant access to our comprehensive guide which provides relevant examples as well as anticipates further questions you may have. As a bonus, we have also included a glossary of "Legal Jargon", which defines common terms used in estate matters to help make our answers easy to understand.
Additionally, we offer a step-by-step guide on how our team can assist you throughout the entire succession process should you choose to use our services. To give you a glimpse of what's possible, we also share some of our client success stories.
You have nothing to lose by requesting your free download. Once you've read the valuable information provided, you can store it away for future reference or reach out to us right away. Our goal is to help you achieve a successful resolution for your loved one's estate. Call us today and let us guide you through this complex process.
You Have Questions. We have Solutions. Download them Now!